Now that international travel restrictions have loosened up, luxury yacht vacations have become the ultimate way to travel. A luxury family travel vacation isn't just for celebrities anymore. Traditional families like yours and mine are chartering yachts in beautiful tropical locations like the U.S. Virgin Islands and the Bahamas all the time. Who doesn't want to relax on an island to get away from all the chaos of daily life? With the help of a professional and friendly yacht broker, you too can travel like the elite visiting tropical islands in absolute luxury. 
Learn more about luxury yacht charters by reading below!
ROAM Family Travel recently met with Envy Yacht Charter's top yacht broker Nancy Van Winter to get an insider's take on family yacht charters. During the interview, which can be read here, Nancy explains how private yacht charters allow extended families and friends to reunite while following social distancing guidelines. Not only are private yacht charters fun and relaxing, but they also make traveling much safer for you and your family. She even gets clients telling her how the experience brought their family closer together and was "way better than being at a resort where everyone runs off and does their own thing."  
Things to Do on a Luxury Yacht Charter
The great thing about yacht charter vacations is that there's always something fun to do. Whether you want to take a swim in pristine waters or want to relax in the sun with a cocktail, you can do just that. 
In 2015, Nancy from Envy Yacht Charters was asked by ROAM Family Travel what a typical day looks like on an all inclusive yacht charters. She responded by saying that everyday starts out with breakfast made by your onboard chef. You can discuss with your captain where you'd like to go for the day and what activities you'd like to participate in and then the boat gets on it's way. Lunch is usually served in another location and you can continue on with your daytime activities. Once dinner is served you can take the dinghy to shore and spend time on the island or stay on the boat, it's totally up to you. 
Really whatever activities you want to do you can on a luxury family travel. Some activities include:
Swimming
Fishing
Snorkeling
Going to the beach
Scuba
Sailing
Windsurfing
Kayaking
Rafting
Water-skiing
Stand-up paddle boarding 
Yoga
Visit the villages
Shopping
Hang out at a bar
Best Islands to Visit on Your Luxury Yacht Charter
Since cruise ships are out of commission due to COVID, the U.S. Virgin Islands and the Bahamas have become the best islands to visit and are now easier to get to. Before 2020, a yacht charter that had an exclusive USVI itinerary was unheard of due to the multiple cruise ships in port making it difficult for charters to find the much sought after mix of activity and quiet beach time. But now, these islands have become the ideal yacht location for several reasons. 
With the decreased number of visitors coming to the island, the waters have cleared up and are now bluer than ever. And crews have dedicated a lot of time and effort into creating unique itineraries guaranteed to please the whole family. Some itineraries in the USVI include St. Thomas, St. John, and weather permitting, St. Croix. There are new bars, beach clubs, cabana rentals for the day, and much more. It's easy to see why the USVIs have become such a popular Caribbean yacht destination. 
The Bahamas - specifically the Exuma islands - are also a hot spot for yacht vacationing right now. As a smaller, more remote part of the Bahamas, the Exuma islands are exempt from quarantine guidelines. This island area, unlike the USVIs, is more rural, so there are not as many clubs and restaurants as other parts of the Caribbean. Instead, outdoor and water activities like snorkeling, diving, swimming, hiking, and fishing are typical on the island.     
Overall Cost - Is It Worth It?
The overall cost of chartering a yacht will ultimately depend on the destination and amount of passengers. And using the services of a yacht broker like Nancy won't actually cost you anything since they are paid by the yacht owners. With that being said, it's important to go through a broker to charter your yacht vacation as they can find you the best deals. 
One of the least expensive destinations to travel to by yacht is the U.S. Virgin Islands. According to Nancy, in 2021 a full-board charter for six people to the USVIs starts at $17,000 and there are no additional taxes to pay in the USVIs since it's an American territory. "I recently had two families rent a 10-person, 52-foot boat that cost $23,000 for the week." Though visiting the USVIs may not always be so affordable, during this time, it's the best cost you'll find.
Visiting the Bahamas is significantly more expensive because the type of catamaran changes. To travel to this location, the charters are typically mid-range power yachts and power catamarans. Prices to charter a yacht for 6 people begins at $25,000-$30,000 for a week's time, but these rates are not all-inclusive. Other costs such as fuel, food, and drinks are often not included in this price. However, these yachts do come with a lot of amenities that will save you money including jet skis, water trampolines and other fun water features. 
Envy Yacht Charters: The Best Charter Yacht Brokers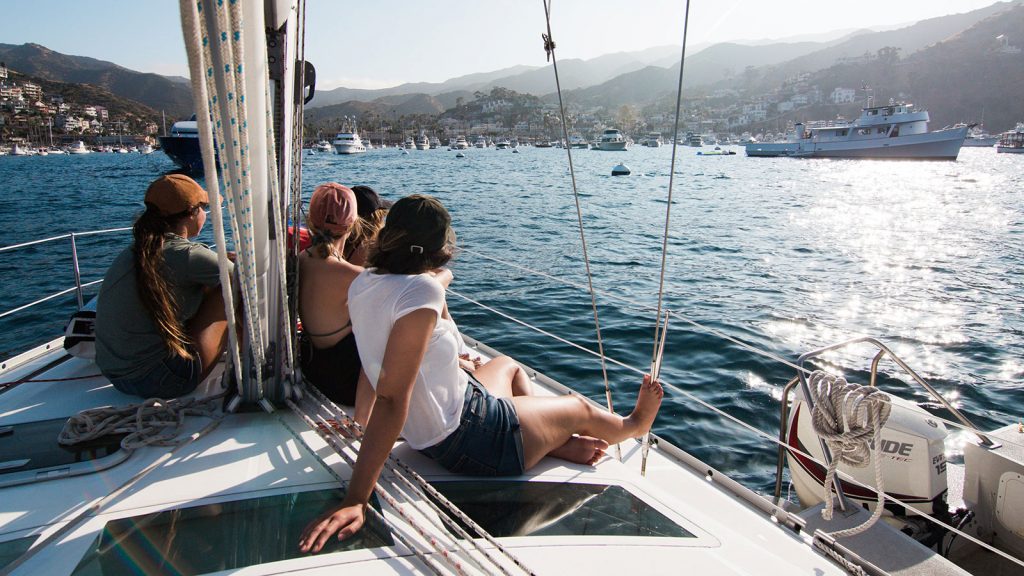 Your next luxury family travel vacation is long overdue and we're sure no matter what it is, it'll be amazing. Now, you can make it even better when you choose a Caribbean yacht charter. The best way to discover parts of this tropical location is through private, all inclusive yacht charters where you are able to customize your own trip and remain secluded from other travelers. This once-in-a-lifetime, first-class experience is done your way with the utmost care and safety from the team at Envy Yacht Charters. There is so much beauty waiting to be discovered on these islands and we can't wait to be your guide!