Vacationing in absolute luxury is probably just what you need right now after all the commotion of the past year. Since the pandemic, luxury scuba vacations have become the new normal for going on holiday, and for good reason. Not only are you and your guests able to enjoy the privacy and splendor of being aboard the yacht, but you also have an endless amount of water activities and other fun adventures right at your fingertips. 
One of the most popular activities to partake in on a yacht charter vacation is scuba diving. A yacht is the perfect place for scuba vacations with the ocean right outside your bedroom. 
Interested in booking a scuba charter for your next dive adventure? Connect with the best charter yacht brokers at Envy Yacht Charters to plan your next luxury scuba vacation!   
Diving in the Caribbean 
Scuba diving in the Caribbean is a highly sought-after vacation destination. With pristine waters, unique caves and walls to explore, and a slew of underwater life, it's easy to see why the Caribbean is such a desired location for diving. Some of the best islands for scuba diving include the British Virgin Islands (BVIs) and the Bahamas. 
Diving in the Bahamas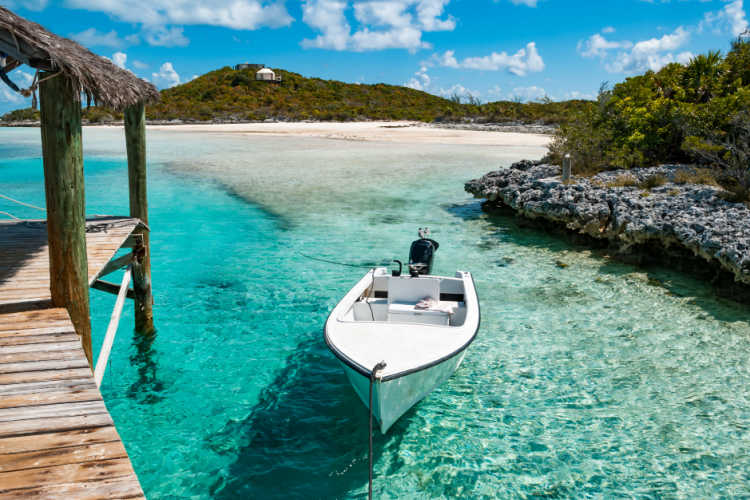 With an acclaimed reef system to explore, tranquil aquamarine waters and a perfect climate, the Bahamas island chains are an ideal dive spot. The Bahamas are comprised of approximately 700 islands with the most popular sites for chartering being the Exumas, Abacos, Eleuthera, and Grand Bahama Island.
Some areas of the Bahamas boast water visibility of over 200 feet - a scuba diver's dream! You can expect to see vibrant sea life, hidden tunnels, and coral reefs below the water's surface. 
Diving in the BVIs
One of our favorite locations for scuba diving in the BVIs is on the island of Anegada. Anegada is known for being a relatively flat land surrounded by beautiful coral reefs and crystal clear waters. Below the surface, divers can explore ancient shipwrecks and the life that lives in the coral reef here. 
Luxury Scuba Vacation Yacht Charters
You may be asking yourself, what's the difference between a regular yacht charter and scuba diving private liveaboards? Well, when you book a scuba charter, you can expect your trip to be highly focused on diving. 
With a private scuba charter, you and your friends will dive when you want and where you want on these luxury dive vacations. Our scuba diving vacation packages make every dive a rewarding and fascinating experience. 
We'll also help you choose the best dive sites to visit and give you tips for the best diving experience possible. 
Why Choose A Yacht Charter for Your Next Dive 
Flexible Diving Schedule 
Your itinerary could include up to 1 to 2 dives per day with planned meals in between. A typical day on all inclusive yacht charters starts with breakfast onboard, followed by your first dive. After this, you'll enjoy an early lunch on the ship and a ride to your next diving destination. Following your second dive, the catamaran will usually dock somewhere onshore while you and your guests enjoy an evening of dinner, drinks, dancing, sitting on the beach, and much more. 
Scuba Gear Included
Another aspect of charter diving is the convenience of having all your necessary scuba gear included on the yacht. Tanks, regulators, fins, and gauges are all provided. Also, a dedicated, professional scuba dive master or instructor is part of your crew and will be there to show you around the dive sites and ensure every diver remains safe. 
Opportunities for Growth
A scuba charter vacation can accommodate all levels of interest in scuba diving. A resort course offered on a charter yacht is exceptional compared to a course offered in a resort/hotel pool. It's quite common for guests to be interested in developing their dive skills. The Open Water Certifications are commonly requested and easily attainable aboard our yachts. For experienced divers looking to upgrade their qualifications, the convenience and luxury afforded on a yacht charter vacation are incomparable.
Book Your Scuba Diving Vacation
Envy Yacht Charters will make your diving friends "eNVious" when you compare stories of your luxury scuba vacations aboard one of our yachts. As specialists in dive vacations, our scuba yacht charters provide an experience unmatched by our competitors. Our specialty in scuba vacations comes from years of experience working at consumer dive shows across the country as well as industry-only dive shows such as DEMA. 
No other charter yacht brokers have such an established presence in the scuba diving industry, and no one does luxury scuba vacationing better than we do. Connect with us today!