A yacht charter with children might not be the first thing that comes to mind when you envision a family vacation. After all, aren't yachts just for suave-looking adults who sip sunset champagne and dress elegantly out at sea? Think again.
A family yacht charter is an unparalleled way for everyone to experience the world. Sure, you could go to an amusement resort or go on that destination ski trip, but why not try something outside the norm? Not all boats are "kid-friendly", but you'd be surprised at the activities and amenities available to accommodate your family's young ones with the help of our agents. Whether you plan to set sail with your immediate family, or even have a family reunion in mind, Envy Yacht Charters can find the ideal combination of location, yacht style, and itinerary items to make the trip unforgettable for the whole family.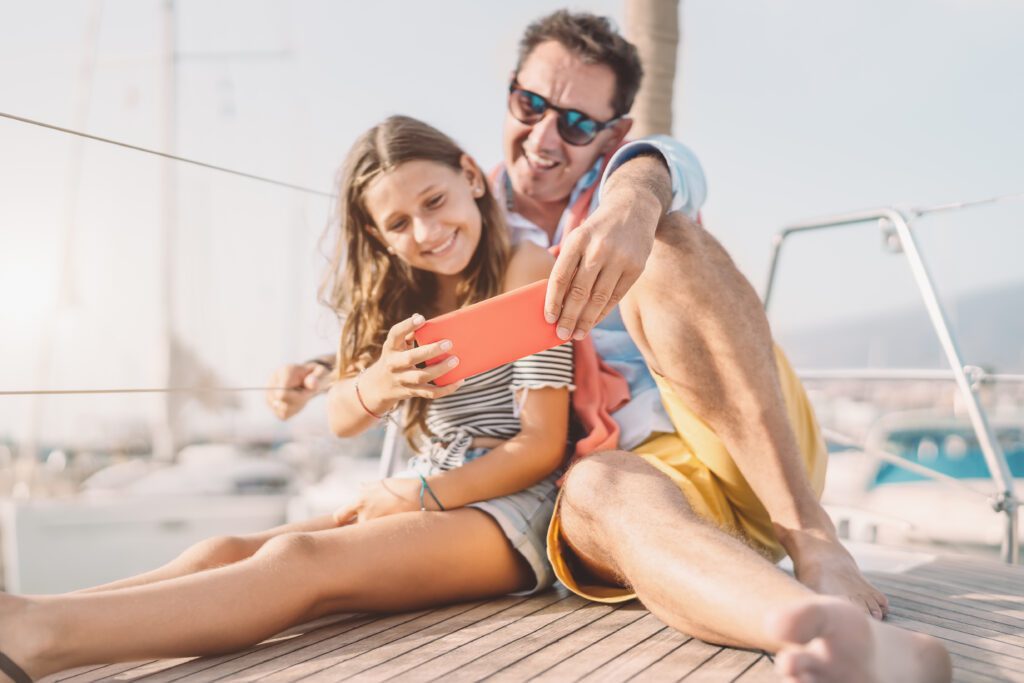 Activities for Everyone
Join in on the fun, or watch from your deck chair as your kids' faces light up while trying new things! Depending on the location and yacht booked, there is an abundanceactivities to be enjoyed out at sea and when docked at various stops along the way.
Your yacht will set off on a new destination each day, so to make the most out of the sunlight, you can pre-plan the stops and what you and your kids would like to do! Families can enjoy:
Snorkeling
SCUBA diving (children as young as 8 can venture into the water)
Kayaking
Water Skiing
Board and Beach Games
Tubing
Jet skiing
Swimming near the yacht, eating snacks, and soaking up the sun
*We recommend having a camera at the ready to capture the ear-to-ear smiles
Family Yacht Tips
Once you've decided to take the leap and experiencing life at sea, consider these tips on how to prepare for a family yacht charter:
1. Choose a Kid-Friendly Destination
Your kids will have fun no matter where they go in the world. However, we have found that some destinations strike a great chord with the young ones and deliver a perfect backdrop for wholesome memories. Popular destinations include:
The Greek Islands,
The Bahamas
Tahiti
The British Virgin Islands
The US Virgin Islands
The Amalfi Coast (for those with teenagers)
And more – just ask which other areas our yachts serve
2. Choose a Boat Fit for Everyone
While fun is a priority on your family yacht adventure, safety and comfort are at the top of the list. We'll find the right yacht for the young swimmers, new swimmers and those that are learning to crawl. Envy Yacht Charters can has keen industry knowledge of most family-friendly yachts in the charter pool, which include features like:
Bunking Accommodations – Obviously, we don't want your child(ren) assigned to a room with a California King bed. We'll check to make sure twin or double size beds are available and that your kids have room to rest their eyes after a day of adventure.
Entertainment – We already touched on many of the awesome activities you can book with your children, but what about entertainment while onboard? If desired, we can select a yacht with an entertainment room, plenty of pool toys, and a designated swimming platform.
3. Childcare Accommodations
While the crew aboard your yacht should not be seen as babysitters, there are strings that can be pulled to get some privacy with your partner on the trip.
For an afternoon away from the kids, some crews are happy to plan a kid-friendly set of activities. Of course, it depends on your children's ages and necessities, so for those that may need a little more attention while you're away, consider bringing a nanny along. Don't worry – some yachts have nanny quarters so everyone is happy and comfortable throughout the duration of the stay.
The goal of all yacht captains is to ensure everyone is tended to with respect, compassion, and a friendly attitude – no matter the age of the individuals aboard. As a matter of fact, some captains only hire crew members experienced with children. A yacht's crew can make all the difference in taking your trip above and beyond, so chat with our brokers to find a great one for your unique trip!
4. Ask Your Kids
The bulk of the planning for a yacht trip will be done with the a combination of our knowledgeable staff and your valued input. But have you considered getting your kids' thoughts? A lot of the time, they'll express ideas you may have overlooked! For a trip everyone will love, go around the room and ask which activities they want to enjoy, and what sights they want to see on this trip of a lifetime.
Create an Unforgettable Vacation with the Help of Envy Yacht Charters
Throughout our experiences booking yacht charters for families, clients consistently tell us their favorite part was to have everyone in one place having truly unfiltered fun. Beginning the day with a new adventure ahead, splitting off to enjoy the activities each adult/child wants to do, then recounting the day over dinner is an experience seldom seen these days. With a boat trip catered to your family's vacation goals, Envy Yacht Charters can help you experience the world and enjoy the priceless moments that come with watching your kids have the time of their lives. Reach out to our friendly brokers to start planning your family vacation to remember!