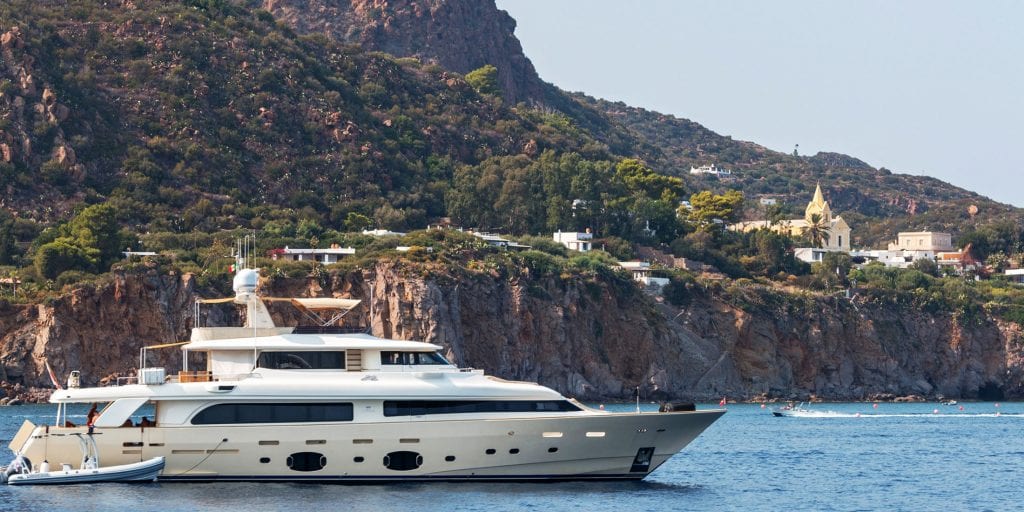 Many people hear the words "all-inclusive yacht charter vacation" and wonder what all-inclusive actually means. An all-inclusive vacation with Envy Yacht Charters is exactly what you would expect—lodging, food and drinks, onboard amenities and entertainment, a prepared itinerary, and a full crew to ensure your ultimate satisfaction. Regardless of the destination, or the yacht charter you choose, you can expect the ultimate luxury vacation experience when you book an all-inclusive charter vacation package with Envy Yacht's renowned charter broker, Nancy E. Van Winter. 
What Your All-Inclusive Charter Vacation Will Look Like
You should know that not every yacht is made the same. Each yacht features its own amenities, design, and deck space onboard. Yacht sizes can range anywhere from 48 - 200 feet and vary by hull type and style. That's why charter broker Nancy spends a significant amount of time getting to know your desires as well as personally inspecting yachts and meeting with crews to find your best-matched charter. 
While boat sizes and uses may differ, our all-inclusive charter vacation packages include the following features for all yachts:
Crew  
Your luxury yacht charter vacation includes a hired crew. The number of crew onboard varies with the size of the yacht and the type of yacht you are chartering. Luxury catamarans typically have 2-4 crew members on board while motor yachts may have anywhere between 4 and 20 crew members depending on the size. No matter what type of yacht you charter for your all-inclusive vacation you will have a professional chef on board to prepare every meal for you and your guests while the captain ensures your safe arrival and departure to and from different islands. Deckhands and hostesses may be on board as well, depending on the yacht you choose to charter.
Food and Drinks 
As part of our all-inclusive charter vacation packages, daily meals and drinks are provided. They will be prepared by the chef onboard and can be amended to suit your group's tastes. Prior to your charter, an Envy Yacht Charters team member will send you a detailed Preference Sheet to share any dietary requirements or restrictions prior to your trip so that our chefs can prepare accordingly. The Preference Sheet addresses types of culinary likes/dislikes, brands of alcohol, beer, and wine as well as snack food items so that your entire charter experience is personalized to you and your group.
Lodging 
Our charters typically accommodate groups of 4-12 people. Each luxury yacht charter cabin includes a King or Queen-sized bed and a private ensuite bathroom. Some cabins can be converted to two twin beds if preferred. Blankets, towels, sheets, pillows, etc. will be provided. 
Amenities
Some of the amenities aboard your yacht charter include protected outdoor cockpit areas for lounging, water toys/accessories, and entertainment such as television and music. The standard for most charter yachts is to include snorkel gear, towable tubes, water skis, Stand UP Paddleboard (many have more than one), floating toys and some of the larger motor yachts have the ever-popular Water Slide! Depending on the type of charter you book, you may also have SCUBA equipment included on your boat, a flybridge, or even a jacuzzi tub to enjoy.  
Sea Travel
There's no better way to travel than on a guided yacht charter through some of the world's most beautiful oceans. A typical yacht charter is 7 nights and 8 days long. Your charter will begin and end at 12 noon on the start and end dates of your vacation. Your itinerary will include several travel days to different destinations, beaches, and islands where you can sit back and relax while your captain sails you through the sea. 
The best news is that the itinerary is completely customizable for you and your group. The itinerary can even be adjusted during your charter if you are enjoying a particular island/anchorage - you may choose to spend an extra day there if you wish. Of course, weather and your safety are of the utmost importance so the Captain will have the final say on your charter itinerary but we are confident you will enjoy your days and nights on your charter yacht vacation.
Types of Yacht Charter Boats
Catamaran Charter
A catamaran is a multi-hull yacht, consisting of 2 parallel hulls, that help glide it along the water. It's a very stable watercraft perfect for larger groups of people, families, and first-time charterers. They are also much more affordable than other models of yachts. Catamaran charters in the Caribbean tend to have an "all-inclusive" pricing scheme with food, standard ship's bar, snacks, and beverages included in the charter price. The Mediterranean and South Pacific tend to have catamaran pricing as "Plus Expenses" which means there is a base charter price and an allowance is extra for food and drinks.
Sailboats
Sailboats are mono-hull vessels that provide the quintessential sailing experience. They're relatively simple vessels, but they offer some of the most memorable moments one can experience. Grab a line and take part in the action or sit back and let your experienced captain handle the yacht.
Motor Yachts 
If you're looking for a vessel that is both quick and spacious, the motor yacht will be your best choice. Motor yachts range between 56-99 feet and are quite luxurious. They are also designed for speed, so if you want to see a lot in your short time on the water, this will definitely get you there. Motor yachts are priced as Plus Expenses which means there is a base charter price and then we collect an additional 35% for your APA or Advanced Provisioning Allowance to cover your fuel, food, drinks, dockage, etc. Some destinations do have an additional VAT tax that is in addition to the base charter price.
Mega Yacht Charters
Mega yachts are the largest vessels you can charter. They typically exceed 100 feet and include a larger crew to serve your every need. Guests on these yachts can expect superior white-glove service and amenities such as a fitness center and spa on board. You will also have much more space and more elaborate water toys to enjoy. Just like the motor yachts, mega yachts over 100 feet will be priced as Plus Expenses and some destinations will charge additional taxes as well.
All-Inclusive Charter Vacations with Envy Yacht Charters
Selecting the best yacht charter for your vacation really should be left to someone who will properly vet the yacht and crew to ensure it meets all of your needs and wants. As industry leaders, our hands-on approach and experience enable us to pick the perfect yacht and crew for each client. And the best part? Our services are completely free to you as the owners of the fabulous charter yachts we recommend are paying us. 
When it comes to finding the right boat for your next all-inclusive charter vacation, make the yacht search simple with professional yacht charter broker services with Nancy Winter.